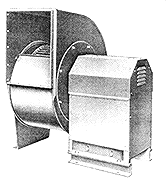 Ready Unit Fans

LSRU, MSRU







These easy to install fans, featuring universal discharge and integrally mounted motors, are unusually versatile.  They are ideally suited for supply or exhaust jobs, both indoors and outdoors.  The standard fan is for clean air up to 300°F.  However, with modifications the air-stream temperatures can reach 1200°F, and move almost any type of corrosive or toxic fumes.

<![if !supportLists]>· <![endif]>For volumes up to 17,000 CFM

<![if !supportLists]>· <![endif]>For static pressures through 10"W.G.

DF Fan LS Ready Units answer the exacting quiet operating requirements of commercial and public buildings, the heavy-duty demands of industrial service, and the strict requirements of the OEM.

TYPICAL USES INCLUDE:                                                                                       




<![if !supportLists]>· <![endif]>Industrial high temperature applications such as:  Dryers, Paint/Powder Coat Systems, Washers, or Bake-Off Ovens

<![if !supportLists]>· <![endif]>Oven re-circulation

<![if !supportLists]>· <![endif]>Oven exhaust

<![if !supportLists]>· <![endif]>Exhausting Fumes and gases

<![if !supportLists]>· <![endif]>Ventilation in buildings of all types, including: schools, hospitals, restaurants, and offices.

<![if !supportLists]>· <![endif]>Ventilation or exhaust in industrial plants.

<![if !supportLists]>· <![endif]>Spot cooling

<![if !supportLists]>· <![endif]>Supply process air





<![if !supportLists]>· <![endif]>Class II, Heavy-duty construction for added years of service.

<![if !supportLists]>· <![endif]>Mill galvanized steel fan wheel with cast iron hub.

<![if !supportLists]>· <![endif]>Dynamically balanced fan wheels.

<![if !supportLists]>· <![endif]>Fully welded fan housings.

<![if !supportLists]>· <![endif]>Heavy steel shaft and cast iron pillowblock bearings.

<![if !supportLists]>· <![endif]>Welded angle iron frames.

<![if !supportLists]>· <![endif]>Ready-to-Run complete assemblies.

<![if !supportLists]>· <![endif]>Vented weather cover.

<![if !supportLists]>· <![endif]>High grade paint treatment, after complete sandblast.

<![if !supportLists]>· <![endif]>Possible to change discharge direction in the field.

<![if !supportLists]>· <![endif]>Centrifugal forward curved fan wheel for quiet performance.

<![if !supportLists]>· <![endif]>Guaranteed performance.

<![if !supportLists]>· <![endif]>8 fan sizes.




      <![if !vml]>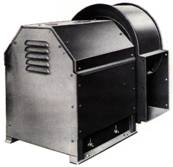 <![endif]>                                                     <![if !vml]>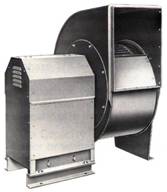 <![endif]>
GENERAL INFORMATION
MINUMUM SPACE REQUIRED
The highly compact Ready Units can be installed in practically any location – on the floor, on the roof, on a platform.  They can also be modified for inverted or side-wall mounting.
OTHER BELT DRIVE ADVANTAGES
A Belt Drive Ready Unit can be chosen to operate at the necessary speed for the air volume and static resistance desired.  Adjustable V-belt drive allows limited changes to be made in fan speed after installation should more or less air be required.  For greater speed changes a new drive can be obtained.
(CAUTION: Check with the Capacity Table before increasing the speed.  Since fan brake horsepower changes with the cube of the speed ratio, even a small increase in speed may overload the motor selected.)
LOWER INSTALLATION COST
Since each unit is furnished complete with motor and drive integrated in one assembly, no expense is required for a separate motor foundation or alignment of components.
ADAPTABILITY ON THE JOB
Air discharge direction can be changed in the field to any of the eight AMCA standard positions of the same rotation.  This is readily accomplished by removing the side plate-to-housing bolts, rotating the housing, and replacing the bolts.  If a rotation change is necessary, an opposite rotation wheel is obtainable.
Motors can be changed in the field within the limits of NEMA frames and overall length shown on the Dimension Tables.  Pre-punched motor bases simplify the change.
As is typical of all DF Fan equipment, LS Ready Units are Class II, extra-rugged to provide added strength and rigidity.  This more durable construction is reflected in added years of service and minimum maintenance along the way.
FAN WHEEL
LS Ready Units have Centrifugal, forward curved fan wheels.  These are the same construction as Type DF Multi-blade wheels, which have been serving the air conditioning unit business for over 60 years.  Standard fan wheels are manufactured from mill galvanized steel construction with cast iron hubs.  Every Ready Unit fan wheel is balanced both statically and dynamically.
 <![if !vml]>

<![endif]>      <![if !vml]>

<![endif]>
    Standard Wheel          Reinforcing Rings
                                      and Stop-Off Band
Fan Wheel size 1/2 through 1-1/4 – 48 die formed blades, with integral tenons on blade ends.  Tenons project through slots in rims and centerplate and are staked in place.
Fan Wheel sizes 1-3/8 through 2-1/2 – 60 die formed bladed (48 blades, sizes 1-3/8 and 1-1/2).  Blades have flanged ends which are riveted to centerplate and rims.
Standard Hubs are cast iron, "Huck Bolted" to backplate.  Available in all English and Metric bores, with or without keyway.
MOTORS
NEMA standard single speed, ODP motors are standard on all units – (3-60-230/460).  Standard motors are EPAct compliant.
FAN HOUSING
Housings are constructed of heavy-gauge steel with each side sheet fully welded to the scroll. Inlets are cast iron or fabricated steel for a smooth airflow to the wheel.
     <![if !vml]>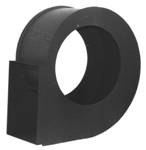 <![endif]>
                Standard Steel Housing
SHAFT, BEARINGS & DRIVE
Standard shafts are of 1045 steel, turned, and ground to exact size. All bearings are Cast Iron Pillowblock type. Drive is V-belt type with one variable pitch pulley for ease with system installation air balance.
FRAMES
The frames, which support the housing and all moving parts, are constructed from heavy steel angle iron. The frame is fully welded to assure permanent alignment and hold any vibration to an absolute minimum.
WEATHER COVER
All units are furnished with vented outdoor weather cover, providing complete enclosure of moving parts to meet safety codes. These covers are easily removed for convenient access to motor, v-belt drive, shaft and bearings.
COATINGS
Standard LS Ready Unit is sandblasted and coated with air-dried enamel paint.
OPTIONAL FEATURES AVAILABLE
VIBRATION ISOLATION
Rubber in-sheer isolators, as found on the dimensional page 14, effectively prevent transmission of any vibration.  Spring Isolators are also available.
VORTEX INLET DAMPER CONTROL
A superior DF Fan capacity regulating device, consisting of 8 simultaneously adjustable blades at the fan inlet.  This permits accurate control and saves considerable power input as compared to outlet dampering devices.
<![if !vml]>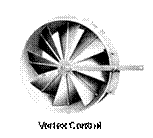 <![endif]>
SPECIAL MOTORS
Enclosed, Explosion-Proof, Two-Speed, Hostile Environment, Single Phase, 50 Hz, or other special motors can be furnished upon request.
CLEANOUT DOORS
Bolted type housing access doors are available.
HOUSING DRAIN
A drain plug fitted at the housing low point.
OUTLET LOUVERS
Mounted on the outlet for prevention of back-draft or for weather protection.
SPECIAL COATINGS
Special coatings are available for corrosive, harsh, or other special applications.  These coatings include but are not limited to: "Heresite", Epoxy, Teflon, Cold Galvanizing Compound, etc.
INLET/OUTLET SCREENS
For protection from birds, debris, and/or people.
SPARK RESISTANT CONSTRUCTION
Special construction and materials used to meet AMCA standards for Type A, Type B, or
Type C.
COOLING WHEELS - HEAT SLINGERS
Shaft cooling wheels are available for high temperature applications to dissipate heat from the shaft and protect the bearings.
FINISHES AND SPECIAL METAL CONSTRUCTION

                                      
Standard Construction – mill galvanized steel (zinc-grip) construction with cast iron hub.  Maximum air-stream temperature 500°F.
High-Temperature Construction – Steel construction with cast iron hub, coated with one coat of black silicone based paint.  Maximum air-stream temperature 750°F.
Spark Resistant Construction – Ferrous and non-ferrous metal combinations, using aluminum and monel, to meet AMCA "A", "B", and "C" construction requirements.
Aluminum Construction – Available for wheels and housings for spark-resistant applications with either cast iron or aluminum wheel hubs.
Stainless Steel Type 304/316 – Available for wheels and housings for corrosive and/or high-temperature applications.  Maximum air-stream temperature 1200°F.
Monel (Nickel-400) – Wheels and housings available for spark-resistant applications where pressure or temperature precludes use of aluminum.
DF Fan Services, Inc.

495 Wegner Drive

West Chicago, IL 60185

Phone: (800) 876-1495

FAX: (630) 876-1497

e-mail: dffan@dffan.com